When Is The Best Time of Day to Take a Shower?
When Is The Best Time of Day to Take a Shower?
Want to know the best time to shower? Everyone's routine is different. Let's talk about the benefits of both options.
Benefits of Showering in the Morning
No matter if you're a morning or a night person, morning showers naturally help anyone wake up. There's nothing better than a fresh shower to give you more energy for your workday. 
Another benefit to morning showers is that you cleanse yourself of any night bacteria. Research shows that humans tend to sweat more at night than in the morning. A quick morning shower can help you feel less sweaty.
If you find yourself nervous about your day, then try taking a cold shower. That may sound shocking, but research shows that cold showers can help soothe anxiety. This may be a great way to mentally prepare for your day and find some peace.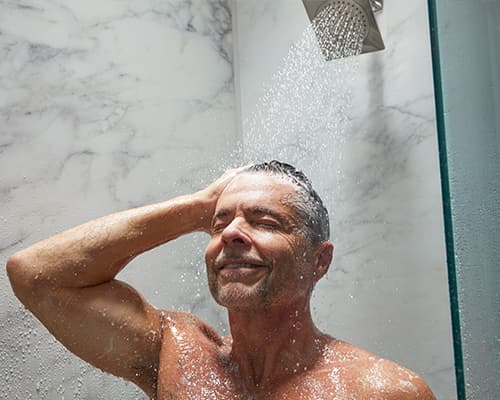 3
Improved Blood Circulation
A study about the physical and mental effects of bathing proved that showers increase the overall blood flow in your body. When you shower, your body also experiences more oxygen and nutrients. Showering in the morning could allow you to bring those benefits into the rest of your day.
Benefits of Showering at Night
Most people find bathtime or showers relaxing. If you want to unwind after a stressful day, nighttime showers might be better for you.
Experts say that if you plan to shower at night, ninety minutes before bedtime provides the best result.
Hot water raises your overall body temperature. Although that's not good for morning showers, it's great for evening showers. When your body starts its cool-down cycle after a warm shower, this makes you feel more tired. This is a great strategy to start winding down for bed.
Let's be honest: most of us don't wash our sheets nearly as much as we should. Nighttime showers could help with this by making sure that you're clean. Also, think about how much you sweat during the day. If you work out after work, then you'll definitely want to shower before going to bed.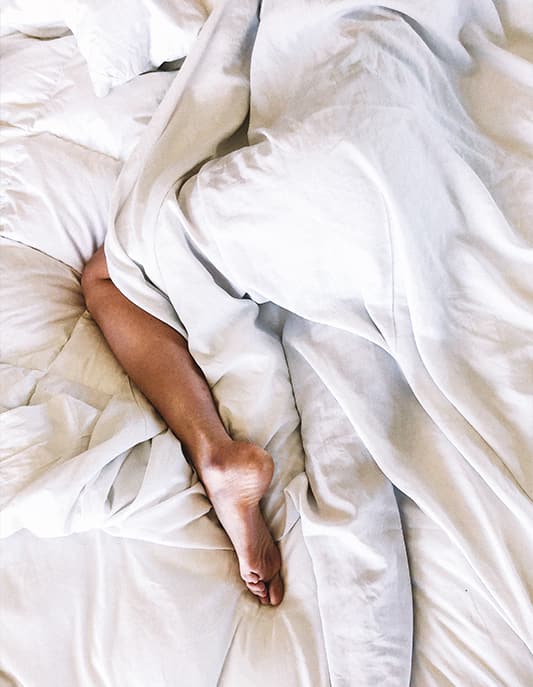 Showering at night is extremely helpful if you have allergy problems in the spring. Naturally, your body accrues chemicals and particles during the day, including pollen. A night shower helps you prevent bringing those particles into your bed.
If you're passionate about having better skin, research recommends exfoliating at night after you've cleansed your skin. Note that when you exfoliate, your skin is more sensitive to sun exposure. So, shower at night when the sun is down and treat yourself to a face mask.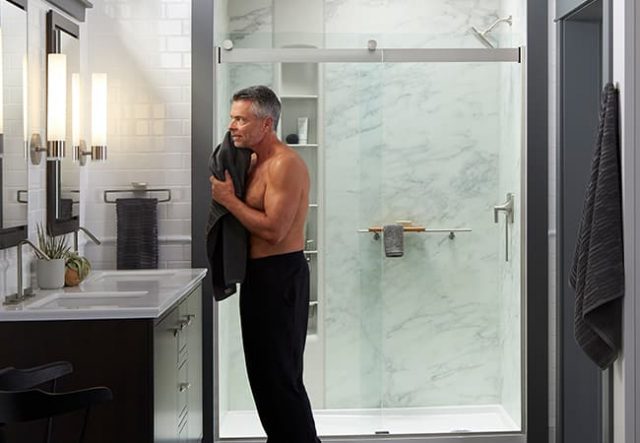 What's the Best Option For Me?
Whether you choose to shower in the morning or at night, each option has its advantages. If you're trying to find the best option for you, then think about what makes you feel the most comfortable.
Considering updating your shower for more comfort? Shop at KOHLER LuxStone today! You can create a relaxing atmosphere in your shower that will increase your comfort and decrease your stress.