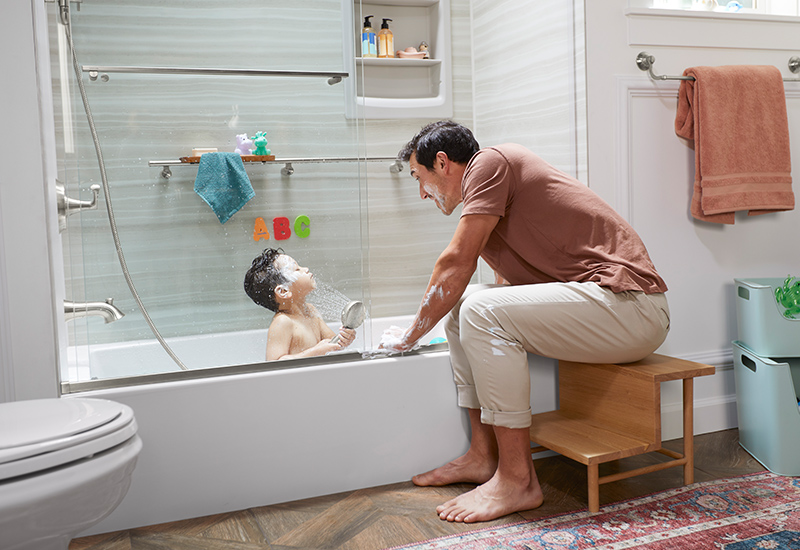 A bath with space to soak and play.
Features:
Left- and right-facing drain options
Textured bottom surface
Comfort Depth® option available
Options:
Defined by crisp lines and a clean, simple aesthetic, the Entity bath complements a wide range of design languages. A comfortable sloped backrest provides support as you soak and unwind. The low stepover height makes this bath easy to access and ideal for bathing young children and washing pets. Available in White only. 60"L x 30"W x 15 ¾"H.

Expanse Alcove Bath

The Expanse provides a luxurious bathing experience in a compact, space-saving design that's ideal for smaller bathrooms. A curved basin and integral apron lend graceful elegance to your bathroom and provide plenty of extra room to stretch out and soak. Its modern style coordinates with a variety of bathroom fixtures. 60"L x 30"W x 17"H.

Taking its design cues from traditional Craftsman furniture, the Archer reveals beveled edges and a curved base for a clean, sophisticated style. A molded lumbar arch gently supports the natural curves of your body. The Comfort Depth® design offers a convenient 19-inch step-over height while retaining the same depth as a standard 21-inch bath to allow for deep, comfortable soaking. 60"L x 32"W x 19"H.
Bathtub Details
Design a relaxing bath space you truly love with an elegantly designed bath by Kohler. Thoughtful details in shape, size and color will beckon you to step in, stretch out and soak as your worries wash away. An option with a lower height ensures that everyone in the home can enter and exit the bathing space with ease.
Gorgeous Shower Design
We just love our shower! The gentleman who put it in was very professional. The shower is absolutely gorgeous!
Super Nice Shower Installers
The guys were super nice and did a really nice job. I love it.
A Better Shower Experience
I love my new shower. It makes that time much, much, better for both of us. I am most satisfied with the fact that it's now safer for me and my husband.
Enjoying therapeutic spray settings
The shower itself has a wonderful variety of sprays that we are finding very therapeutic. We are delighted that your products have left us with a much more visually appealing bathroom.