Digital Shower System
Control every part of your shower experience from one easy-to-use interface.

Call to get started with your free consultation.
Explore The Digital Shower System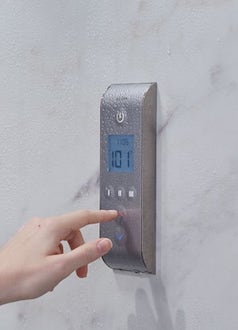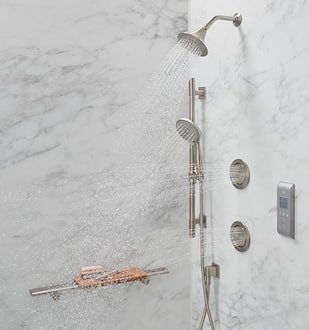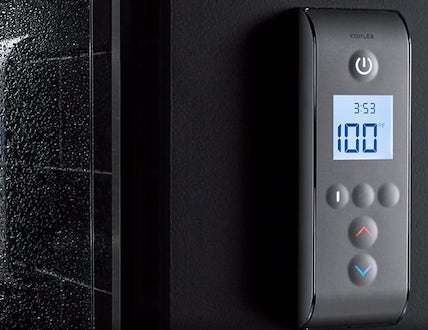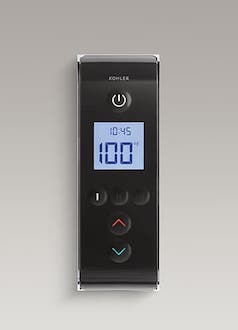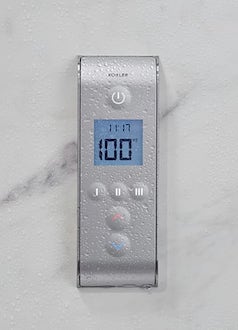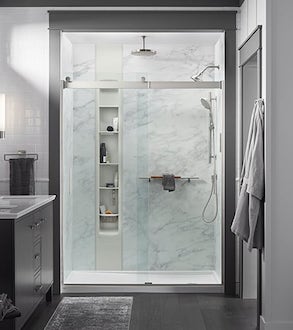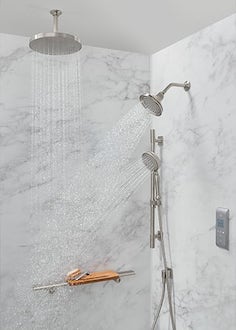 FAQs
What is a digital shower system?

A digital shower system is a digital device that allows you to control your shower settings without stepping inside the shower. LuxStone offers this through the DTV Prompt® accessory, which can control up to three outlets independently.

What does the DTV Prompt do?

With DTV Prompt, you can turn your shower on and off with the touch of a button, as well as toggle between spray outlets and precisely control water temperature without using a lever. DTV Prompt also allows you to program your preferred settings to activate upon start-up.

What types of faucets can DTV Prompt control?

DTV Prompt can control traditional showerheads, rainheads, body sprays, handshowers and tub fillers. It can connect to a maximum of three outlets, which you can control concurrently or independently.

What are the benefits of DTV Prompt?

In addition to controlling multiple shower outlets at once, DTV Prompt features a warm-up function, which creates a better shower experience without the discomfort of too-cold or too-hot water. When you activate the shower, the digital system will warm up the water to your preferred temperature setting, then pause the flow when the temperature is reached. Press Power to reactivate the flow, and step into your perfectly customized shower setting.

There is also a countdown feature that helps you limit your water usage. The digital screen will show a countdown to the time you set before shutting off. This is also useful for filling a bathtub.
DTV Details
Gain complete control over your shower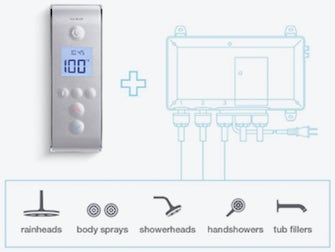 The DTV Prompt offers powerful technology in a compact design. The easy-to-use digital shower system allows you to change everything from the timer, the type of sprays and even the temperature at the click of a button. Easily toggle between handshowers, body sprays, showerheads and more. If at any point you need to take a break from your showering experience, just click once and you can pause the water flow. Warm up your shower before you step in—when the water reaches your set temperature, the DTV will pause the water flow to let you know it's ready.
The DTV digital showering system can be installed inside or outside the shower, or install two systems for even more versatility.
Explore Faucet Options
Gorgeous Shower Design
We just love our shower! The gentleman who put it in was very professional. The shower is absolutely gorgeous!
Super Nice Shower Installers
The guys were super nice and did a really nice job. I love it.
A Better Shower Experience
I love my new shower. It makes that time much, much, better for both of us. I am most satisfied with the fact that it's now safer for me and my husband.
Enjoying therapeutic spray settings
The shower itself has a wonderful variety of sprays that we are finding very therapeutic. We are delighted that your products have left us with a much more visually appealing bathroom.