LuxStone® Shower Walls
Each design in our LuxStone shower walls collection was handpicked by Kohler's industry-leading designers.
Choose your perfect color, texture and pattern.
Features:
Available in a variety of colors, patterns and combinations
Made of crushed stone for enhanced durability
Walls are custom-fitted and installed in as little as one day
Options:
Shower Wall Details
Bring your personality into your LuxStone shower design.
NEW: Explore Bluette, Calacatta and Ice Grey, the latest exclusive designs added to the LuxStone collection that give the look and feel of stone without the maintenance.
LuxStone shower walls were designed to be durable, low-maintenance, and most of all, beautiful. With a modern matte finish and a variety of patterns and colors, you can easily express your style and personality through your custom shower design. Accent shower wall panels let you further customize your shower enclosure and enhance a feature wall.
From the elegant lines of CrossCut Dune to the refined simplicity of White Brick, our shower wall options can help you achieve the look you want in one of the most important spaces in your home. Choose the same style for every wall, or mix solids and patterns to create an eye-catching feature wall. Combine them with elegant showerheads and handshowers, accessories and a glass door to complete the look.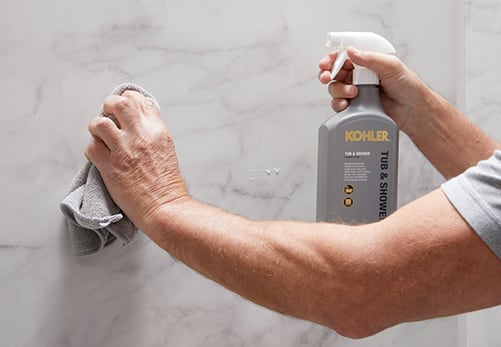 Made of nonporous, stain-resistant crushed stone, LuxStone shower walls are designed to be installed in your shower in as little as one day. Plus, there is no grout to clean, leaving your shower sparkling longer. Explore your shower wall options and select the one that best suits your style.
Visit our shower design gallery to inspire your dream shower look.
See The LuxStone Difference
What sets LuxStone apart from other shower surfaces? From durability to design, LuxStone was engineered for maximum convenience and style.
SIDE-BY-SIDE COMPARISON
Gorgeous Shower Design
We just love our shower! The gentleman who put it in was very professional. The shower is absolutely gorgeous!
Super Nice Shower Installers
The guys were super nice and did a really nice job. I love it.
A Better Shower Experience
I love my new shower. It makes that time much, much, better for both of us. I am most satisfied with the fact that it's now safer for me and my husband.
Enjoying therapeutic spray settings
The shower itself has a wonderful variety of sprays that we are finding very therapeutic. We are delighted that your products have left us with a much more visually appealing bathroom.