Shower Accessories
Enhance your shower experience with additional storage, stability and seating options.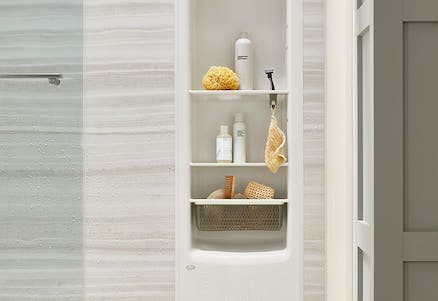 Shower Locker
Store and organize with style.
Features:
Available in 9" and 14" widths
4 adjustable shelves
Recessed design adds storage without losing space
Options:
Details
Once you've crafted the foundation of your KOHLER® LuxStone shower design, discover the thoughtful storage possibilities that maximize space and keep your new shower experience neat and organized.
Kohler's recessed shelving is an elegant space saver designed for tight quarters. The popular Shower Locker® storage, available in 9- and 14-inch widths, features four adjustable shelves and a basket for organizing unwieldy bottles and scrubs.
This streamlined shower storage marries form and function with shelves and a basket that are height-adjustable to 10 positions; removable, easy-to-clean shelves; and an inset cup for toothbrushes and razors.
This unique shower storage solution was designed to blend seamlessly with Kohler's decorative shower walls and is available in the same colors to complete the look of your new shower.
Combine the shelves with other useful accessories, such as the shower barre or floating shelf, for the perfectly personalized shower space.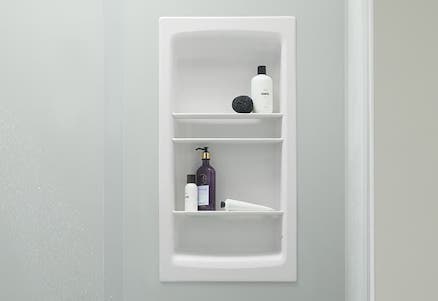 Shower Niche
Maximum storage, minimal space.
Features:
3 moveable shelves
Removable shelves for easy cleaning
Designed to prevent water pooling
32½"L x 17"W x 4"D
Options:
Details
Smaller than the Shower Locker, but no less customizable, the Shower Niche maximizes your storage space within the shower, keeping your essentials off the floor and neatly organized.
With three moveable shelves and four placement options, the layout can be fitted to accommodate all sizes of bottles, scrubs and other accessories. Cleaning is a breeze with the removable shelves and the smart design that prevents water pooling.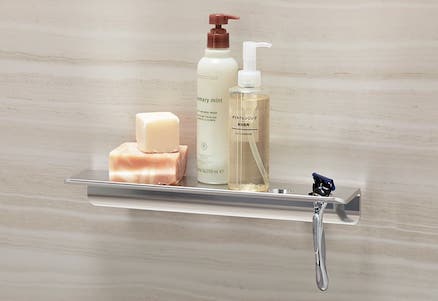 Floating Shelf
For extra storage, wherever you need it.
Features:
Easily installed anywhere in the shower
Cleat system allows for simplified removal and cleaning
Engineered design helps limit pooling
Available in 14" and 21" length
Options:
Details
This adaptable shelf can be placed anywhere in the shower. You can even install it outside the shower to open up more storage possibilities. Made of durable anodized aluminum, the shelf is designed for quick water drainage and easy cleaning and features a cleat system for simple, tool-free removal. Choose the 14" shelf for an easy place to store your razor, or the 21" shelf for more storage and a slot to hold a washcloth. The Floating Shelf is designed to be easily installed with your LuxStone® shower in as little as one day.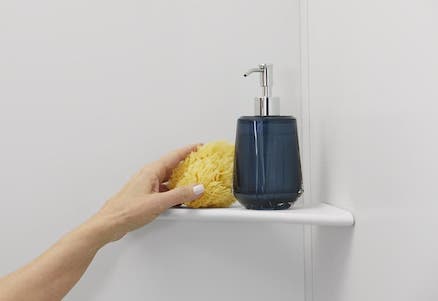 Corner Shelf
Make any tight space more functional.
Features:
Designed for quick drainage
Concealed attachment leaves no caulk line
5" x 14"
Options:
Details
Maximize every inch of space in the shower while keeping your bottles and accessories tidy and organized. The corner shelf's unique design allows for quick water drainage and easy cleaning. Its concealed attachment eliminates unsightly caulk lines, leaving a sleek, minimal look in the shower.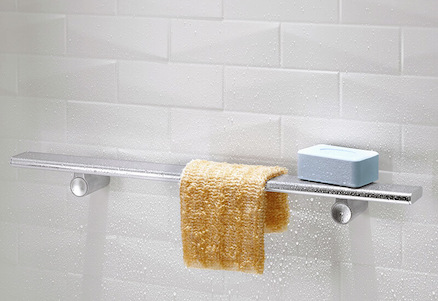 Shower Barre
Modeled after the graceful ballet barre.
Features:
Doubles as extra storage space
Provides stability in your shower
Available in 24", 36" and 54"
Options:
Details
Inspired by ballet dancers, this shower barre provides stability as you enter and exit the shower space. The polished design offers support for mobility assistance and everyday routines such as scrubbing feet, shaving legs or stretching.
Made of anodized aluminum, the barre's slim, flat profile doubles as an extra storage space. The design effortlessly coordinates with LuxStone shower walls, showerheads and accessories. The Shower Barre is designed to be easily installed with your LuxStone shower in as little as one day.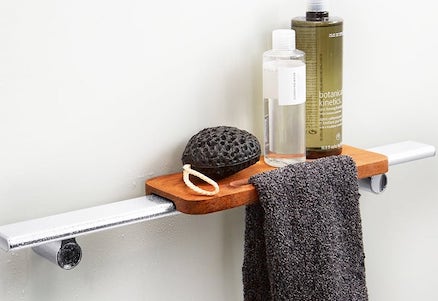 Teak Tray
Accent your Shower Barre with elegant wood shelving.
Features:
Made of natural teak wood
Easy snap-on installation
For use with LuxStone Shower Barre
L 12" x W 4-5⁄8" x D 1-1⁄8"
Details
Designed to snap securely onto the Shower Barre, this Teak Tray creates a convenient and attractive shelf for holding everyday grooming products. It even includes a narrow slot for hanging a washcloth.
Teak is often used in boat building because of its relatively high strength and resistance to mildew, making it the perfect wood material for the shower.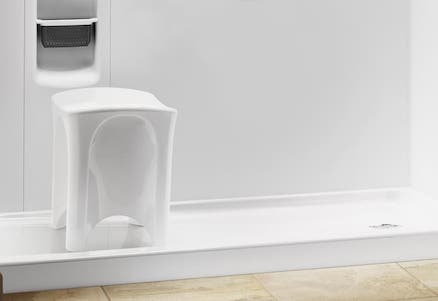 Moveable Seat
Wash, scrub and shave in a comfortable seated position.
Features:
Integrated handles provide versatility inside and outside of the shower
Smooth, simple design makes cleaning easy
Comfortable height and ample seating area provide stability
Sized to fit perfectly in any showering space
21-7⁄8" x 17-3⁄8" x 13-⅛"
Options:
Details
Add flexibility and safety to your shower routine with this smooth, lightweight accessory. Perfect for resting your legs while you wash or shave, the one-piece moveable shower seat is lightweight and easy to clean. It's sized to fit perfectly in any showering space and can be used outside the shower as well. Handles on the sides make it easy to move, and an ample seating area provides stability and comfort.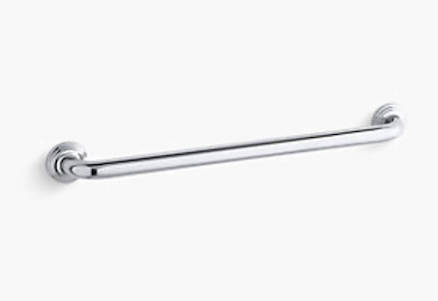 Traditional Grab Bars
Increase support and stability both inside and outside the shower.
Features:
Available in 18", 24" and 36"
ADA compliant
Options:
Details
With its smooth, rounded contours, the ADA-compliant grab bar provides safe and sturdy support for a variety of bathroom decors. With a variety of sizes to accommodate any space, these grab bars offer a wide handle for comfortable gripping, while high-quality metal construction ensures long-term functionality.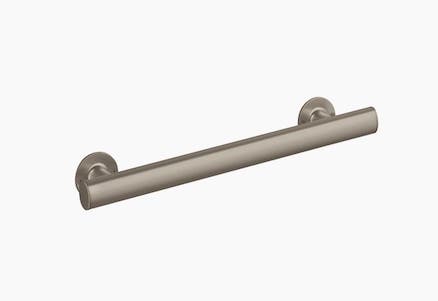 Straight Grab Bars
For wherever you could use some extra support.
Features:
Available in 18" and 24"
Rust-proof and chip-resistant
Options:
Details
With a modern elliptical shape for better grip, the straight grab bars allow for confident movement in and out of your shower. Two sizes suit a variety of shower enclosure sizes, so the bar fits in seamlessly with your shower design.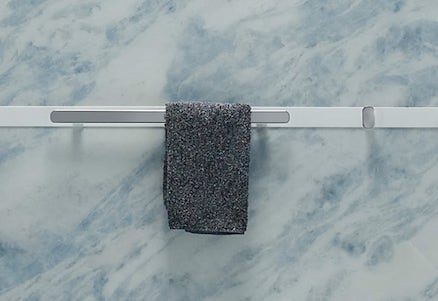 Towel Bar
Keep your hand towel or washcloth close by on a sleek towel bar.
Features:
Pairs with LuxStone 48" and 60" wall connectors
Aluminum construction
Available in 16"
Options:
Details
Minimalist in its design, this sleek towel bar conveniently holds your washcloth inside your LuxStone shower for easy access. It's made of durable aluminum construction and a high-quality finish to resist rust and corrosion through everyday use. Pair this towel accessory with other LuxStone hardware for a polished look.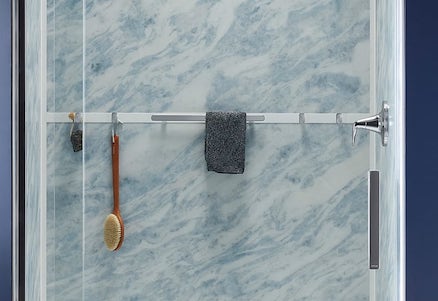 Shower Hooks
Hang your loofah and other accessories within easy reach.
Features:
Pairs with LuxStone 48" and 60" wall connectors
Aluminum construction
Options:
Details
These shower hooks strike the perfect balance of elegant design and outstanding function. Installed inside your LuxStone shower, they keep your grooming products handy at all times. Their aluminum construction and premium finish resist corrosion and tarnishing for easy cleaning. Unify the look of your shower by coordinating them with the LuxStone collection.
Gorgeous Shower Design
We just love our shower! The gentleman who put it in was very professional. The shower is absolutely gorgeous!
Super Nice Shower Installers
The guys were super nice and did a really nice job. I love it.
A Better Shower Experience
I love my new shower. It makes that time much, much, better for both of us. I am most satisfied with the fact that it's now safer for me and my husband.
Enjoying therapeutic spray settings
The shower itself has a wonderful variety of sprays that we are finding very therapeutic. We are delighted that your products have left us with a much more visually appealing bathroom.