KOHLER® LuxStone Shower Installation
Remodel your shower for luxury that lasts with the LuxStone® shower collection from KOHLER. Choose from premium features, beautifully-designed walls and thoughtful accents for a walk-in shower worth showing off. And with professional installation in as little as a day, you can enjoy the difference that LuxStone makes for your shower routine sooner.
Learn More
Completed by a Local KOHLER Shower Dealer & Installer
Bring your dream shower to life with the help of your local KOHLER Authorized Dealer. Trained by Kohler Co. to deliver high-quality customer service and a stress-free shower installation, KOHLER Authorized Dealers are selected for their excellent credentials in the areas of:
Bath and shower remodeling experience
Customer satisfaction and support
KOHLER product expertise
View KOHLER Authorized Dealer locations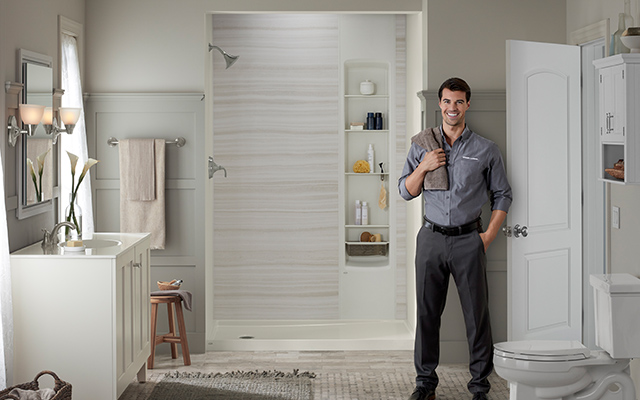 Showers Installed in as Little as A Day
Say goodbye to remodel hassles with professional installation services from your KOHLER Authorized Dealer. In as little as a day, a team of experienced installers will remove your old bath or shower and replace it with your brand new walk-in shower, taking care to protect your home and ensure minimal disruption to your routine.
Expertly Designed to Fit in Any Space
During your free design consultation, we'll assess your bathroom and take precise measurements to determine the right design for your space. Our custom shower walls and range of base sizes mean you can select the shower that fits your style without compromise.
Call Today To Request A Free Quote Call (800) 997-0074
Request Your Free Quote
LuxStone Shower Installation Process
We remove your old shower or bath to make room for your new LuxStone shower, taking care to protect your home during removal. We'll also handle the disposal of your old shower or bath.
Your hand-selected LuxStone shower walls are installed. LuxStone walls combine crushed stone with other natural materials for enhanced durability and are custom designed to precisely fit your unique space.
Your entire shower will be installed in as little as a day, and ready to use immediately. You can expect your team of installers to address any questions you may have and leave your bathroom just as they found it.
LuxStone Shower Installation Cost & Financing Options
With affordable financing options, you can install and enjoy your new LuxStone shower on your budget and timeline. During your consultation, your KOHLER Authorized Dealer will review your payment options and help you select a plan that works for your finances.
You are also guaranteed the KOHLER Price Promise—the quote you receive during your consultation is the price you will pay on installation day. That means no surprise fees or hidden costs—ever. We'll also honor your consultation price for one full year, so you can take the time to decide if a luxury walk-in shower from KOHLER is right for you now, or later.
EXPLORE FINANCING PLANS
EXPLORE Product Offers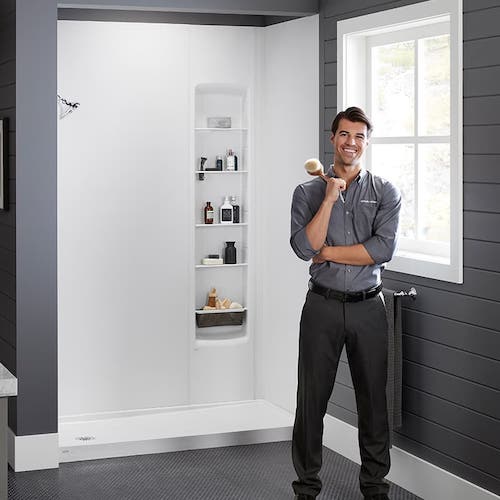 Kohler's Safety Guidelines
On installation day, the safety of our customers and KOHLER installation team is our top priority. To keep everyone safe and comfortable for the duration of your installation, we have the following guidelines:
Protective Equipment
Installers will wear booties, masks, gloves and other protective equipment while working inside the home. They will also carry hand sanitizer to use as needed. Sales representatives and installers displaying symptoms of fever, cough and difficulty breathing will not visit your home.
Maintaining A Safe Distance
Installers will maintain at least six feet of distance from you and others whenever they are able to do so. If available, a garage or flat driveway can serve as a workspace for installers to assemble as much of your shower as possible outside your home.
Small Teams
Your installation team will consist of only the workers essential for remodel completion. We'll send professionals who are prepared to replace your old shower and manage any plumbing and electrical work.
"We just love our shower! The gentleman who put it in was very professional. The shower is absolutely gorgeous!"
Walk-In Shower Installation Frequently Asked Questions
Do I need to prepare my bathroom for installation day?
Simply remove any valuables or fragile items from your bathroom—we'll take care of the rest, including removal and disposal of your old bath or shower. Your installation team will wear booties and use sheets to protect your home from dust and debris while they work.
How long does it take to install a new walk-in shower?
Yes, installation can take as little as a day. Your KOHLER Authorized Dealer will assess your shower space and take measurements during your in-home consultation. Keep in mind that some circumstances may extend the installation process, as every shower space is different.
What is included in my quoted price?
The quoted price you receive during your design consultation includes everything—the shower system, installation and disposal of your old bath or shower. The quoted price you receive is the price you will pay on installation day. Learn more about the
KOHLER Price Promise
.
How do I care for my shower?
LuxStone shower walls and fixtures are much easier to clean than tile, fiberglass or granite and require less frequent maintenance to stay pristine. Simply apply a gentle all-purpose cleaner, such as the
KOHLER Tub & Shower Cleaner
,​​ to your showerhead, base and shower walls to remove soap scum and other build-up. Be sure to read the directions on the cleaner prior to use to ensure avoidance of abrasive ingredients.
Can I have a bath/shower combination?
Yes. We can either keep your existing bathtub or install a new one in addition to your new shower. Your KOHLER Authorized Dealer will review your options and help you find the solution that works best for your space.
How much does it cost, on average, to install a new walk-in shower?
Your custom project pricing depends on your unique shower design, bathroom space and installation needs. This includes the delivery and labor costs for adjusting or disposing of your old bath or shower. Best of all, we'll honor that quote for one full year, so you can upgrade your bathroom on your timeline and budget.
Gorgeous Shower Design
We just love our shower! The gentleman who put it in was very professional. The shower is absolutely gorgeous!
Super Nice Shower Installers
The guys were super nice and did a really nice job. I love it.
A Better Shower Experience
I love my new shower. It makes that time much, much, better for both of us. I am most satisfied with the fact that it's now safer for me and my husband.
Enjoying therapeutic spray settings
The shower itself has a wonderful variety of sprays that we are finding very therapeutic. We are delighted that your products have left us with a much more visually appealing bathroom.