Natural stone showers are beautiful and make any bathroom feel more high-end. But is this a good choice for your bathroom? That depends! Natural stone showers require more maintenance than tile, acrylic, or even LuxStone® shower walls.
Let's discuss what you need to know before you opt for natural stone in your bathroom.
What Stone is Best For Shower Walls?
If you're interested in using natural stone in your bathroom, you have quite a few choices. No matter which you go with, there are a few things to keep in mind.
First, use smooth stone. Textured stone is more difficult to clean and tends to hold on to grime, making it difficult to get your shower truly clean.
Similarly, pebble or river rock floors and stacked stone are popular, but that means you'll have a lot of nooks and crannies to clean. It is very difficult to keep that many grout joints and small stones clean.
Slate
Slate is among the most commonly used stone in showers. It is available in a variety of rich colors, from traditional slate gray to warm terracotta. Just be sure to choose the right kind of slate, as some varieties are more prone to flaking and deterioration. If you keep this in mind and make sure your slate shower is cleaned and sealed regularly, you'll enjoy it for years to come.
Pros: Slate is widely available and comes in a variety of colors, allowing you to create the natural stone shower of your dreams.
Cons: Some varieties of slate are prone to deterioration or flaking, especially if it is not sealed correctly.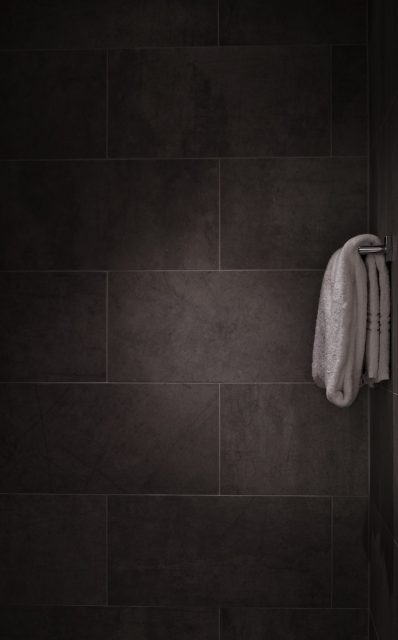 Marble
Marble is a classic option for any bathroom, especially lighter shades of marble. Before choosing this for your bathroom, it's important to remember that lighter colored stones are more porous, making them more likely to stain. In addition, some varieties of marble have a high iron content, which will rust if it is not properly sealed.
Pros: Marble never goes out of style and always looks high-end.
Cons: Light marble may stain and marble with high iron content will rust if not sealed regularly.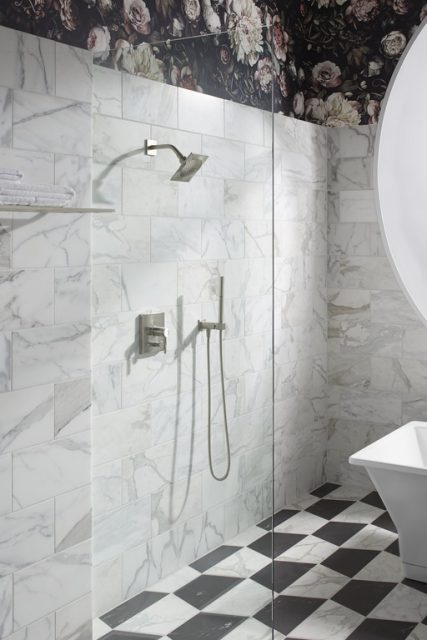 Granite
Granite is another popular choice, particularly lighter shades of granite. If your bathroom vanity or countertops are granite, choosing a granite shower is a great way to instantly create a cohesive look in your bathroom. Granite shower walls are available without grout lines, creating a neater appearance and making cleaning much easier. Like other natural stone options, a granite shower should be sealed at least annually.
Pros: Granite is available without grout lines, making it easier to clean. You'll also be able to coordinate your shower with granite countertops in your bathroom for a cohesive look.
Cons: Granite is the most expensive natural stone option.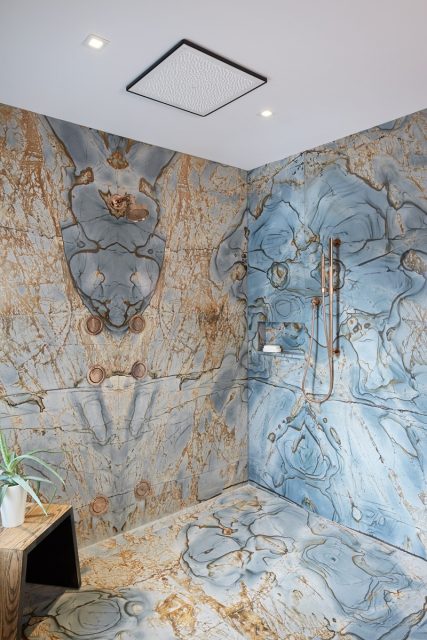 Engineered Stone
Engineered stone is made of crushed stone and other materials for added durability. It's a great way to get the natural stone look with minimal upkeep. Engineered stone shower walls like KOHLER® LuxStone are durable, stain-resistant, and grout-free. Available in gorgeous finishes like Calacatta Crema and CrossCut Dune, you'll get the stone look you want without the need for sealing or other time-consuming maintenance.
Pros: Engineered stone is low-maintenance, allowing you to enjoy your shower without a lot of upkeep.
Cons: If you want a more rustic or textured look, engineered stone may not be right for you.
Should You Seal Natural Shower Tiles?
Yes, your natural stone shower should always be sealed! To keep your shower in great shape – and keep mold and mildew at bay – we recommend having your shower sealed at least once a year.
Instead of a topical sealant that may flake off or discolor the stone, choose a penetrating sealant. Penetrating sealants absorb into the stone, allowing it to repel water without the risk of flaking or chipping. Your local stone supplier can make a recommendation about the sealant that is best for your natural stone shower.
How Do You Clean Natural Stone in a Shower?
Cleaning a natural stone shower isn't as simple as cleaning an acrylic, fiberglass, or tile shower. It's important not to use harsh or acidic cleaners like white vinegar, bleach, or even traditional bathroom cleaners. You'll also want to avoid traditional grout cleaners. These, along with abrasive cleaners like powders, will break down the sealant much faster than appropriate cleaners.
Only use cleaners made specifically for the type of stone in your shower. Your local stone supplier or hardware store should have several options and recommendations.
Get the Natural Stone Look Without the Upkeep
With KOHLER LuxStone, you can get the look of natural stone in a low-maintenance package. With our shower walls, you have a variety of options that look as rich and unique as natural stone, without the extra work.