KOHLER® LuxStone Shower Remodel In San Diego, CA
Proudly serving San Diego, CA and surrounding areas:
Bonita, Clairemont, Coronado, Chula Vista, La Mesa, La Presa, Lincoln Acres, Mission Valley, National City, Spring Valley, Tierrasanta and more.
Your KOHLER Owned San Diego Dealer
Make your bath or shower dreams come true without remodeling stress with your KOHLER Owned Dealer in San Diego. With their expertise and support, you can expect a KOHLER-quality experience: an exclusive collection of KOHLER LuxStone products, inspired design and customer service delivered by local KOHLER professionals. They'll work efficiently to install your new bath or shower so you can enjoy it sooner! Customize a walk-in bath or shower that meets all your needs from your KOHLER Owned Dealer in San Diego.
Meet Your Local KOHLER Experts
900 South Andreasen Drive, Escondido, CA 92029
CSLB# 1098798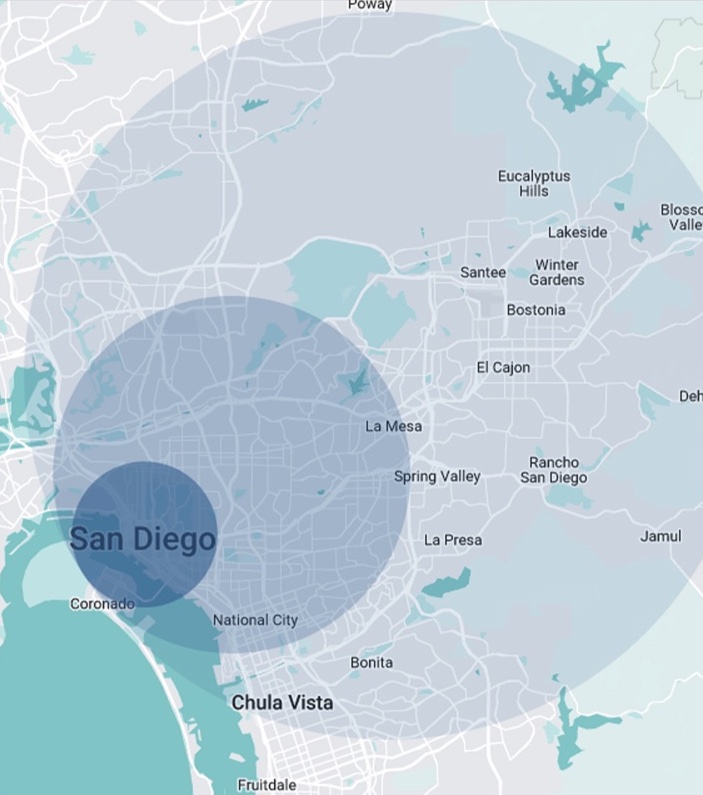 *Contact us to learn more about coverage in your area and available consultation options
Choose the Bathing Experience That Fits Your Lifestyle with KOHLER Services
What Is LuxStone?
KOHLER LuxStone's exclusive collection of shower walls outperforms traditional tile, acrylic and fiberglass walls. Made of nonporous, stain-resistant crushed stone, KOHLER LuxStone shower walls resist fading and wear over time. They're also completely grout-free and hide caulk and silicone, preventing mold build-up for effortless cleaning and ultimate durability. KOHLER LuxStone shower walls will deliver lasting beauty that stands up to your busy routine.
DISCOVER THE LUXSTONE DIFFERENCE
Take The Shower Design Style Quiz
Are you Luxe Traditional? Modern Farmhouse? Bold Contemporary? Take our quiz to discover which design elements match your personal style.
Take The Quiz
KOHLER LuxStone Reviews From San Diego, CA Customers
"The installation team was amazing. We were able to jump any hurdle that came up, and I could trust them in my home. I would recommend them to anyone."
"The walls are just beautiful, and my shower is now my favorite room."
"The sales team really listened to our description of our needs. The installation team was professional, extremely skilled, and dependable. The product is superb, and the quality is excellent."
Walk-In Shower Installation & Remodel Process
In 3 Simple Steps
Step 1
Schedule Your Free Consultation
After you submit the contact form, we will call you to schedule your free design consultation.
Step 2
Design Consultation
We will review your design options, take measurements, calculate your custom price and review payment options. Then we'll schedule your installation.
Step 3
Fast & Professional Shower Installation
We will remove your old tub or shower and install your new KOHLER LuxStone shower.
Lifetime Limited Warranty
Your shower includes a warranty designed to provide you with years of trouble-free enjoyment and customer care when you need it.
Learn More
Financing Available
Choose from a variety of flexible, affordable financing options offered by GreenSky®, a leader in home improvement financing.
Learn More
Why You Should Choose A San Diego, CA KOHLER Owned Dealer
Trained and certified by Kohler Co. to sell and install LuxStone
Free design consultation with a design expert
Fully licensed, insured and bonded
Exclusive special offers available
San Diego LuxStone Shower FAQs
The KOHLER LuxStone shower is designed to fit your style and routine. Learn more about your walk-in shower's associated costs, installation, and exclusive features.
Will KOHLER obtain all the permits for installation or will I have to file them myself?

Your local KOHLER team will manage the permit process on your behalf and keep you up to date on their progress. They will produce a professional drawing set for your approval and then submit it to your city's Building Division (or to the County of San Diego for unincorporated areas) along with the construction permit application. After the permit is approved, they will work with you to schedule your walk-in shower installation.

Will the cost of my shower remodel vary with size?

Due to the customizable nature of your KOHLER LuxStone shower, pricing may vary between San Diego-area customers. We tailor your price to your unique space and shower measurements and include our Lifetime Limited Warranty,  professional shower installation and any disposal or adjustment of your current shower space into your total remodel cost. Ultimately, you'll receive one quote, good for 90 days, that covers your entire remodel. That means no hidden fees, no matter what.

What are the best types of doors for a shower remodel?

We've made it easy to choose the right doors for your new KOHLER LuxStone shower. Brighten your San Diego bathroom with glass shower doors designed to open and close quietly. Plus, our patented glass surface treatment repels dirt and water, keeping your glass shower doors clean for longer.

How small of a shower can I remodel with KOHLER LuxStone?

The KOHLER LuxStone shower is designed to fit your unique space, whether you choose to install in your owner's suite or a smaller guest bathroom, in-law suite or elsewhere. During your free in-home consultation, our KOHLER Experts will measure your space to ensure precise shower design with the maximum amount of bathing space in your bathroom.

What other shower features does KOHLER LuxStone offer with their remodel?

We've designed the KOHLER LuxStone shower using premium materials and innovative engineering to ensure a lasting product that meets all your shower needs. Explore our thoughtfully-designed shower features, including durable crushed stone walls, textured acrylic bases, sleek glass doors and range of metal faucets, to start designing for your shower dreams.

How large is the KOHLER Services San Diego warehouse?

We're committed to serving the residents of San Diego county. That's why we've located our warehouse right off I-15 in Escondido and designed it to hold everything you need for your shower remodel! At approximately 19,000 square feet, our space is large enough to accommodate all walls, faucets & fixtures to bring your shower dreams to life.