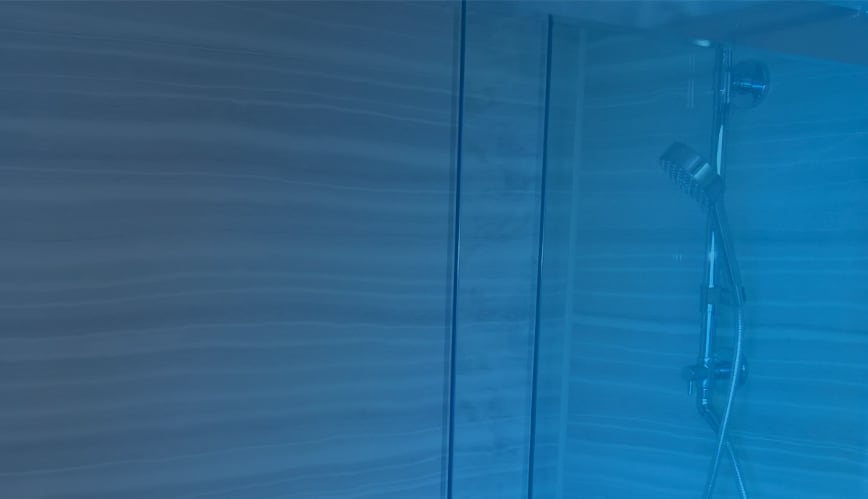 Ted & Diane's Modern-Chic Shower Transformation
Portland, OR
As Ted and Diane approached their retirement years, the couple decided it was time to remodel parts of their mid-century Portland home. After living there for nearly 30 years, their sights were set first on modernizing their dated shower.
"I wanted to get rid of the tub," Ted explained. "That bathroom had been remodeled inexpensively at one time, it had a drain issue… As we get older, we need a walk-in shower, not a tub you have to climb over."
Then something happened that turned the shower remodel from a desire to a necessity: Diane had a stroke. For many weeks she needed round-the-clock care, and the couple's bathtub was no longer a safe bathing option.
In the months following the stroke, Diane regained much of her strength, but the couple still saw an opportunity to design a safer shower that offered a more luxurious experience and needed minimal maintenance. And they wanted this remodel to last.
Discovering LuxStone®
"When we do something, we like to do it right, not a facial treatment," Ted says. He saw a local TV program that featured a KOHLER Authorized Dealer discussing the LuxStone shower system. He was immediately hooked by the Kohler name and the unique shower wall solution that had no grout to clean. He scheduled an in-home design consultation soon after.
He and Diane appreciated the salesman's thoughtful explanations of the LuxStone products and no-pressure sales pitch. They were especially wowed by the sample of the LuxStone wall material that he showed them—it was thick and strong, unlike the flimsy alternatives they had seen. The couple then made their design selections and received a quote.
"We signed the papers on the spot," Ted says.
The Transformation
Ted and Diane were impressed by what they saw during the installation. Three installers and a plumber from the local KOHLER Authorized Dealer worked tirelessly to complete the job in just two days.
"What really impressed us was the fact that they tear everything down to the two-by-fours," Ted says. "They use only good materials and KOHLER product, which is high quality."
The installers removed the couple's old plastic walls and tub and started their new shower space from scratch. Piece by piece they expertly installed the low-threshold shower base, LuxStone walls, showerhead, accessories and glass door enclosure.
For their main bathroom, the couple chose a soft neutral palette that offers a soothing retreat at the end of a long day. "We wanted to lighten everything, open it up," Ted explains. "We wanted it more liveable."
The shower's interior is adorned with VeinCut Dune walls. Their dual-outlet HydroRail®-S Shower Column Kit with Awaken® Handshower provides plenty of spray options to enhance the couple's individual shower routines, and is especially useful in rinsing down the interior shower surfaces, Ted adds.
The glass door features Kohler's exclusive CleanCoat® technology, which repels water and dirt, keeping the space pristine even with frequent use. Accessories like a sleek Shower Barre and vertical grab bar ensure Ted and Diane can enter and exit with ease. Finally, the Moveable Seat offers the perfect size and weight for easy maneuvering both inside and outside the shower.
"You're getting the luxury of a very expensive system, but not at the cost."
Their design checked all the boxes: high quality, low maintenance and easy access. Plus, "everything is just gorgeous," Ted remarked. "You're getting the luxury of a very expensive system, but not at the cost."
"It's A Pleasure To Go In That Shower"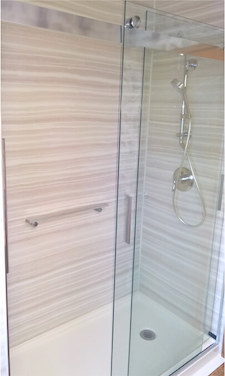 "It's 1,000 percent better," Ted says of his new shower routine. "There's no comparison."
Ted and Diane especially love the new LuxStone shower walls that replaced the old wall material. Not only do they enjoy their newfound freedom from grout, but they were also excited to find that the walls feel great on contact, too. "The surface itself is incredible," Ted says. "Especially when it's wet, it's almost like a microfiber silky surface. It's just gorgeous. You put your hand on it, it's just got the most beautiful feel in the world."
Now, the couple is considering remodeling their downstairs shower with LuxStone as well. For the fast installation and quality of materials for the price, Ted says, there's no contest.
"This is a completely all-new, heavy-duty, almost clean-free system, and it's from a company that has the reputation," Ted says. "It's a pleasure to go in that shower every single day."