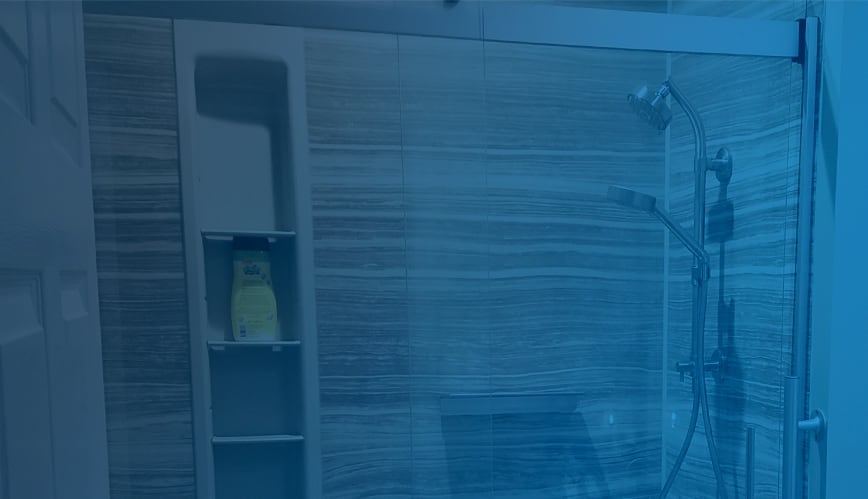 Pat and Ronnie's Dual Bathroom Redesign
Springfield, PA
Pat and Ronnie had owned their home for over 20 years, and the vintage was starting to show in their two bathrooms. While the fixtures worked okay, neither Pat nor Ronnie truly enjoyed their shower experience.
"They were 20-year-old standard builder-grade bathrooms," Pat explains. "They were dated. Everything just needed a redo."
For a year they explored various solutions, unsure of what exactly they wanted. They even consulted an interior designer, but were disappointed by her recommendations. Pat then saw an ad for the LuxStone® shower. He called the number in the ad and scheduled an in-home design consultation.
The Remodel
The couple was impressed with the in-home experience. "Good presentation, no pressure, explained every detail," says Pat, who was a Cadillac dealer for 55 years. "Ron and I just fell in love with it immediately. We made a decision on the spot."
They decided if they were going to remodel one bathroom, they should update their guest bathroom as well. During the consultation, they picked the pieces for both bathroom designs and scheduled the installation.
The KOHLER Authorized Dealer installer arrived early Monday morning and got to work. "You could tell he was a total pro," Pat says. "He never stopped working."
He kept Pat and Ronnie updated at each step of the installation process to ensure their satisfaction with the work. When he left at the end of the day, their home was spotless. At the end of the project, Pat deemed it a "perfect job."
"I had no idea it was going to turn out as well as it did," he says.
"It's a high-end luxury shower that is worth the price."
The Reveal
Pat and Ronnie were beyond thrilled with the quality of the installation and their new at-home spa spaces. "It's a high-end luxury shower that is worth the price," Pat says.
Their primary shower received a luxurious remodel with a low-profile base and VeinCut Dune walls. Crisp brushed nickel grab bars add elegant accents and easy mobility for entry and exit. A Shower Locker adds tidy storage for the couple's soaps and shampoo bottles, and a floating shelf keeps their razors safely stored.
The modern HydroRail®-S shower column kit with Awaken® handshower provides a much more satisfying, drenching soak, and the sleek glass door featuring a towel bar and CleanCoat® glass treatment repels water and soap scum.
In their guest bathroom, Pat and Ronnie installed a bathtub for their young grandchildren when they visit. Like their primary shower, it also has a sliding glass door, grab bars, floating shelf and a HydroRail-S shower column kit for easy, comfortable rinsing. A darker Sandbar-colored Shower Locker matches the VeinCut Sandbar* walls for a dramatic yet soothing respite.
Pat says that the remodel opened up more space inside the shower, creating several inches of standing room that they didn't have before. He was most impressed by the shower surfaces that repel water and dirt. "It's magnificent-looking," Pat says. "And they don't stain. And I'm pretty meticulous."
Ronnie, who recently had back surgery, says she feels more secure and sturdy as she enters and exits the shower with the grab bars. Plus, replacing the bathtub with a low-profile shower base allows for easier transitioning, Pat adds.
Now when guests come over, Pat says they marvel at their new showers. "When people come and look at the bathrooms they say, 'God this looks like an exotic hotel,'" he says. "That's how much of a drastic change it is. Both bathrooms are a wow factor."
*VeinCut Sandbar shower walls are no longer available.